Ali Abdulwahab Al Mutawa Commercial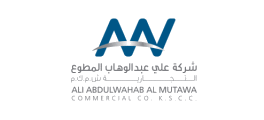 About Ali Abdulwahab Al Mutawa Commercial
Company Industry: Retail/Wholesale
Company Location: Kuwait
The business of our company started in 1918 immediately after the First Word War, flourished after he second Word War right after the oil discovery in Kuwait.
AAW Was developed and recognized later on as one of the major trading companies in the country, with its official registration in the Ministry of Commerce and industry on 20 February 1956.

Since then, our company has experience an impressive growth and has encompassed principal activities in the following segments:

• Consumer Goods
• Pharmaceutical - Wholesale and Retail
• Real Estate
• Home and Office Furniture and Carpets
• Kitchen Appliances
• Premium Home Appliances
• Outdoor Products and Retail
• Sports Apparel and Lifestyle

Procter & Gamble products, and leading brands such as Hoffman La Rosch, Siemens, Basset, Century Furniture, Bosch, Nolte Kitchens, Jansport, Eastpak, The Athlete's Foot, Curves Fitness Center amongst others are all part of our portfolio.
With more than 1,200 employees, we continue to actively engage in developing new areas of expansion while diversifying our range of value products and services.